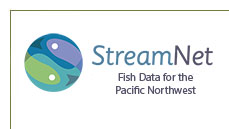 STREAMNET DATA STORE'S DATA PUBLISHING SERVICE
The first step in submitting data sets to the StreamNet Data Store is registration. We need a minimal amount of information about who you are, and you need to create a sign in password. You will use your email address and the password you create to sign in and submit data sets. You can also come back later to edit data sets.
The information you provide in this step will only be used by us to contact you if needed, and will not be publicly available.
Please fill in the following information.
(Note: If your email address is associated with projects funded by BPA then when your email address is entered we gather some information from their Taurus system so you don't need to type it in here.)
EMail:
Password:
(Be aware that passwords are not
Confirm Password:
encrypted and we can read them.)
First Name:
Last Name:
Organization:




205 SE Spokane Street, Suite 100 * Portland, OR 97202 * p 503-595-3100 * f 503-595-3232