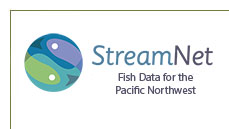 STREAMNET DATA STORE
The StreamNet Data Store is a searchable archive of data sets related to fish and other aquatic resources that are not of the specific data types included in the main StreamNet database. These data sets come from many different sources and are provided for download in their original formats. To add your own data set to the Data Store, use our Data Publishing Service.
StreamNet did not participate in creation of most of these data sets, and we are not able to answer questions about those we did not help develop. For questions about the data sets available from this page, please contact the originator of the particular data set.
To search the Data Store, enter key words, project numbers, species, methods, etc. into the search box below and click "Search".
Fish Passage Center (web site)



Data Categories
Smolt passage
Adult passage
Gas bubble trauma / disease
Dissolved gas
Dam counts
Smolt counts
Travel time
Water temperature
Hatchery releases
Smolt survivals
Smolt to adult survival rates (SARS)
Smolt transportation data
Electrical conductivity
Spawning data
Seining data
Stranding and entrapment data
Emergence data
Redd maps
Summarized PIT tag data
Fishing reports
Dates of Data
1938 TO Current
Data Set Status
In work
Data Set Update Schedule
Continuously updated.
Date Data Set Published on StreamNet Data Store
2/9/2005
Project Name & Number
375.05 Fish Passage Center
Purpose of Data Set
Purpose provided in Abstract
Summary / Abstract
The Fish Passage Center (FPC) coordinates the Smolt Monitoring Program (SMP), and data from this program is intended to provide the information basis for federal, state and tribal recommendations for anadromous fish passage in the Federal Columbia River Hydro-electric System (FCRPS). The FPC web site provides data on salmon, steelhead, bull trout, and lamprey throughout the FCRPS. In addition to SMP data, The FPC web site provides data and analysis for the Gas Bubble Trauma (GBT) program, the Comparative Survival Study (CSS), adult migration, environmental conditions, hydrosystem operations, hatchery releases, and spawning and emergence for certain groups of anadromous fish.
Broad Biological Groups
Fishes
Taxa
Chinook salmon (Oncorhynchus tshawytscha)
Coho salmon (Oncorhynchus kisutch)
Chum salmon (Oncorhynchus keta)
Pink salmon (Oncorhynchus gorbuscha)
Steelhead (Oncorhynchus mykiss)
Sockeye salmon (Oncorhynchus nerka)
Pacific lamprey (Lampetra tridentata)
Bull trout (Salvelinus confluentus)
Location
Anadromous fish zone of Columbia River basin.
NPCC Subbasins (2001 Subbasins)
Entire Columbia Basin / Mainstem / Systemwide.
Hatcheries
All hatcheries that release anadromous fish in the Columbia/Snake River Basin
Dams
Bonneville Dam
The Dalles Dam
John Day Dam
McNary Dam
Ice Harbor Dam
Lower Monumental Dam
Little Goose Dam
Lower Granite Dam
Priest Rapids Dam
Rock Island Dam
Rocky Reach Dam
Wells Dam
Keywords
columbia river, snake river, ives island, pacific salmon, chinook salmon, king salmon, onchorynchus tshawytscha, coho salmon, chum salmon, kisutch, dog salmon, keta, silver salmon, sea trout, blueback, gorbuscha, pink salmon, humpies, sockeye salmon, nerka, steelhead trout, mykiss, rainbow trout, lamprey, usfws, fish and wildlife, nez perce tribe, the confederated tribes of the umatilla indian reservation, the confederated tribes of the warm springs reservation of oregon, and the confederated tribes and bands of the yakama indian nation, columbia river inter-tribal fish commission, odfw, wdfw, psmfc, idfw, tribes, spawning, redds, fry, smolt, salmon migration, fish passage, fish counts, army corp of engineers, dams, fish traps, bonneville dam, the dalles, john day dam, mcnary, lower monumental, little goose, rock island, lower granite, river flow, lewiston, grande ronde river, imnaha river, salmon river, whitebird, flow, spill, turbine discharge, bipass system, gas bubble trauma, pit tags, transportation, mortalities, barging smolt, trucking smolt, hatchery releases, passage index, collection count, sample count, adult count, temperature, pacific northwest, fish links, biological opinion, esa, fishway inspection, system operational requests, wanapum, priest rapids, wells, chief joseph, grand coulee, dworshak, brownlee, hells canyon, prosser, ice harbor, total dissolved gas, hydro systems, fish migration, idaho, washington, oregon
Lead Person and Organization That Created the Data Set
Michele DeHart
Other Participating Organizations
Fish Passage Center
USFWS
Nez Perce Tribe
The Confederated Tribes of the Umatilla Indian Reservation
The Confederated Tribes of the Warm Springs Reservation of Oregon
The Confederated Tribes and Bands of the Yakama Indian Nation
Columbia River Inter-Tribal Fish Commission
Oregon Department of Fish and Wildlife (ODFW)
Washington Department of Fish and Wildlife (WDFW)
Pacific States Marine Fisheries Commission (PSMFC)
Idaho Department of Fish and Game (IDFG)
U.S. Army Corps of Engineers
Grant County PUD
Chelan County PUD
Douglas County PUD
Idaho Power Company
Contact Person for Questions About the Data
Name: Michele DeHart
Position: Fish Passage Center Manager
Organization: Fish Passage Center
Address: Fish Passage Center 1827 NE 44th Avenue, Suite 240
Portland, OR 97213
USA
Phone: 503-530-4288
email: Send a note to fpc.org addressed for mdehart.
Broad Category of Methods
Field and lab
Data Collection Methods
SMP data entry manual: http://www.fpc.org/documents/metadata/ConditionSamplingManual_V12009.pdf
GBT data entry manual: ftp://ftp.fpc.org/gbtprogram/GBTMonitoringProtocol2003.doc
File Formats
on-line query system
Data structure description
See data set files
URL where updated data may be available
Data are available on the web at http://www.fpc.org.
Some data sets are intrinsically linked to software, tools, models, or statistical procedures, and must be used in association in order to be of value. If this applies to this data set then the following information will apply:
Relationship between the data set and the software, model, etc.
Where the software, tools, models, etc. can be obtained if they are not included with the data download.
Contact person for questions about the software, tools, models, etc.
Name:
Organization:
Address:
,

Phone:
email:
Papers, reports, and presentations that were done under this project.
Restrictions or legal prerequisites for accessing and using this data set.
Data in the FPC database are for use by the primary researchers who create the data. Use of these data should be with caution, as often experimental treatments are not included with the data in the FPC database. Also, ethical use of these data require that data users obtain permission to use the data from the data creators.