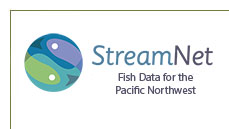 STREAMNET DATA STORE
The StreamNet Data Store is a searchable archive of data sets related to fish and other aquatic resources that are not of the specific data types included in the main StreamNet database. These data sets come from many different sources and are provided for download in their original formats. To add your own data set to the Data Store, use our Data Publishing Service.
StreamNet did not participate in creation of most of these data sets, and we are not able to answer questions about those we did not help develop. For questions about the data sets available from this page, please contact the originator of the particular data set.
To search the Data Store, enter key words, project numbers, species, methods, etc. into the search box below and click "Search".
PIT Tag Information System -- PTAGIS (web site)



Data Categories
Anadromous fish mainstem passage
Migration rates
Detection rates
Adult return rates
Dates of Data
1987 TO Present
Data Set Status
In work
Data Set Update Schedule
Continuously updated
Date Data Set Published on StreamNet Data Store
8/15/2005
Project Name & Number
BPA project #1990-080-00
Purpose of Data Set
Purpose provided in Abstract
Summary / Abstract
PTAGIS collects and manages the PIT tag data collection system for fishes in the Columbia River basin, providing coordination, data access, and data management.
Broad Biological Groups
Fishes
Taxa
American shad (Alosa sapidissima)
Brook trout (Salvelinus fontinalis)
Bull trout (Salvelinus confluentis)
Chinook salmon (Oncorhynchus tshawytscha)
Chum salmon (Oncorhynchus keta)
Coho salmon (Oncorhynchus kisutch)
Cutthroat trout (Oncorhynchus clarkii)
Green sturgeon (Acipenser medirostris)
Pacific lamprey (Lampetra tridentata)
Northern pikeminnow (Ptychocheilus oregonensis)
Pink salmon (Oncorhynchus gorbuscha)
Sockeye salmon (Oncorhynchus nerka)
Steelhead (Oncorhynchus mykiss)
White sturgeon (Acipenser transmontanus)
Location
Columbia River basin
NPCC Subbasins (2001 Subbasins)
Entire Columbia Basin / Mainstem / Systemwide
Hatcheries
Abernathy SCTC
Beaver Creek Hatchery
Big Creek Hatchery (ODFW)
Bonneville Hatchery
Carson NFH
Cascade Hatchery
Cassimer Bar Hatchery
Chelan PUD Hatchery
Clackamas Hatchery
Cle Elum Hatchery
Clearwater Hatchery
Cowlitz Salmon Hatchery
Cowlitz Trout Hatchery
Crooked River Rearing Pond
Dworshak NFH
Eagle Creek NFH
Eagle Hatchery
East Bank Hatchery Facility
Elochoman River (Washington) Hatchery
Entiat NFH
Gnat Creek Hatchery
Grays River Hatchery
Hagerman NFH
Irrigon Hatchery
Issaquah Hatchery
Kalama Falls Hatchery
Klaskanine Hatchery
Klickitat Hatchery
Kooskia NFH
Leaburg Hatchery
Leavenworth NFH
Lewis River Hatchery
Lookingglass Hatchery
Lower Kalama Hatchery
Little White Salmon NFH
Lyons Ferry Hatchery
Marion Forks Hatchery
Magic Valley Hatchery
McCall Hatchery
McKenzie Hatchery
Methow Hatchery
Montlake Hatchery
Naches Hatchery
Niagara Springs Hatchery
Nez Perce Tribal Hatchery
Oak Springs Hatchery
Oxbow Hatchery (IDFG)
Pahsimeroi Hatchery
Powell Rearing Pond
Priest Rapids Hatchery
Rapid River Hatchery
Red River Rearing Pond
Ringold Hatchery
Roaring River Hatchery
Round Butte Hatchery
Rocky Reach Hatchery
Sandy Hatchery
Sawtooth Hatchery
Sea Resources Hatchery (Chinook River, WA)
Similkameen Pond/Hatchery
Skamania Hatchery
South Santiam Hatchery
Speelyai Hatchery
Spring Creek NFH
Sweetwater Springs Hatchery
Toutle Hatchery
Trask Hatchery
Tucannon Hatchery
Turtle Rock Hatchery
Umatilla Hatchery
Vancouver Hatchery
Washougal Hatchery
Wallowa Hatchery
Wells Hatchery
Willamette Hatchery
Willard NFH
Winthrop NFH
Warm Springs NFH
Yakima Hatchery
Dams
Bonneville Dam
Hemlock Dam (Trout Creek, Wind River)
Ice Harbor Dam
John Day Dam
Little Goose Dam
Lower Granite Dam
McNary Dam
Priest Rapids Dam
Prosser Diversion Dam
Rock Island Dam
Rocky Reach Dam
Roza Dam
Sullivan Dam
Three Mile Falls Dam
Wells Dam
Keywords
Passive Integrated Transponder tags; PIT tags; passage; downstream; upstream; returns; anadromous; reservoirs; survival rates; travel time; migration rate; smolts; adults; detectors
Lead Person and Organization That Created the Data Set
Dave Marvin
Other Participating Organizations
Pacific States Marine Fisheries Commission
All entities studying mainstem fish migration in the Columbia Basin with the use of PIT tags
Contact Person for Questions About the Data
Name: Dave Marvin
Position: PTAGIS Fisheries Biologist
Organization: PTAGIS / Pacific States Marine Fisheries Commission
Address: Pacific States Marine Fisheries Commission 205 SE Spokane Street, Suite 100
Portland, OR 97202
USA
Phone: 503-595-3100
email: Send a note to psmfc.org addressed for dave_marvin.
Broad Category of Methods
Field
Data Collection Methods
PIT tags implanted in fishes in hatcheries and streams. Detectors record fish passage at dams and traps.
File Formats
On-line query system that can output comma-separated value text files.
Data structure description
See data set files
URL where updated data may be available
The PTAGIS web site is http://www.ptagis.org.
Some data sets are intrinsically linked to software, tools, models, or statistical procedures, and must be used in association in order to be of value. If this applies to this data set then the following information will apply:
Relationship between the data set and the software, model, etc.
Where the software, tools, models, etc. can be obtained if they are not included with the data download.
Contact person for questions about the software, tools, models, etc.
Name:
Organization:
Address:
,

Phone:
email:
Papers, reports, and presentations that were done under this project.
Restrictions or legal prerequisites for accessing and using this data set.
Data in the PTAGIS database are for use by the primary researchers who create the data. Use of these data should be with caution, as often experimental treatments are not included with the data in the PTAGIS database. Also, ethical use of these data require that data users obtain permission to use the data from the data creators.